Checkered Flag Tire Balance Beads | Lowest Price Balancing Beads
We are proud of our product and feel we offer one of the best for your tires
Checkered Flag Tire Balance Beads
Checkered Flag Tire Balance Beads are a Hard Compound. Balancing Beads WILL NOT hurt your rims and WILL NOT be affected by a layer of moisture in the tires. Our tire beads are also T.P.M.S. safe while some other brands of tire beads can not say that. When it comes to pricing, we offer the BEST PRICE on this type of tire balancing beads. We stand behind them when we say, they WILL last the life of your tires.
CFTB has worked diligently to improve our product and services. Checkered Flag wholeheartedly believe, we offer our customers one of the absolute BEST materials for tire balance beads possible.
Tire Balancing Beads are the topic of conversation and each day more folks are telling us how happy they are. Internal balancing started in the 1970's with truckers using metal balls. Soon it was discovered that the metal would rust and damage tires along with the rims. Tire Bead Balancing went through several different media over the last 40 years but none are as well suited as the type of balance beads we sell today. Our beads will not cause damage and are not affected by moisture like many other brands are.
Checkered Flag Tire Balance Beads has a tire balance bead chart for fast, easy tire balancing. This product will ensure balanced tires and also T.P.M.S. safe. Our Premium compound beads deliver lifetime balancing with 100% environmentally friendly assurance. Remember our beads are different from our competitors.
If you own or operate an Over The Road OTR truck and trailer then you can most certainly benefit from our beads. An Internal Tire Balance increases miles on the tread and decrease wear on your nerves with a smooth ride.
Our media will not clump with moisture or damage tire linings and wheels like powder and steel can do.
For semi-trucks and big rigs, internal balance is not only for steer tires but the drives as well. Buy now for all the tires for the best possible balance. Pour in our product and you forget about it.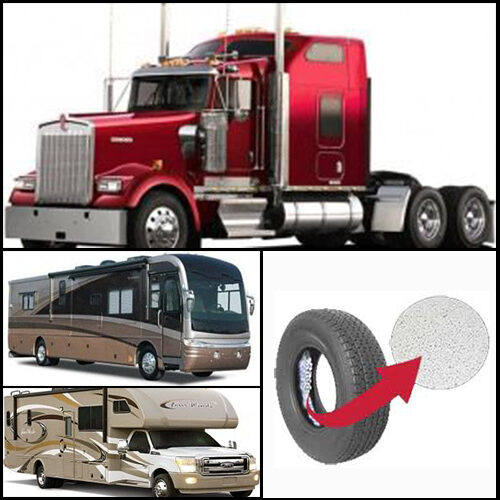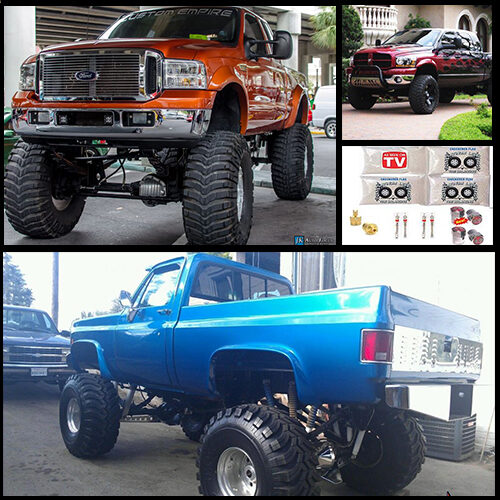 For 35 or 37 inch Tires or any Large Off Road Aggressive Type
For our customers with large aggressive off road tires we can offer the peace of mind of a long term balance and not worrying about throwing a stack of weights stuck inside your wheels.
No matter the brand or size, whether in the mud or snow, with Checkered Flag you will have a smooth flowing ride as the balance beads continue to re-position themselves for every situation. The added bonus is longer tread life on your very big expensive tires; just pour in our product for the balance you always needed on your big Wheels.
They also work great in all Types of Trailers
If you want to make your trailer tires last as long as possible you ned to have them balanced. The beads work great and last the life of the tread.
Motorcycle Tire Balancing Beads vs Weights
Over 50% of our customers own a motorcycle or scooter and need a better way to balance their motorcycles. We have had many positive feedbacks from very happy motorcycle customers that have poured the beads into their motorcycle wheels. Our balancing beads are just as good as other balancing beads that sell for twice the price.
Just like with the trucks, you will gain a smooth ride with longer tread wear and with motorcycle tire balancing beads; there are no ugly weights and smooth ride for the life of the tread. This is one of the greatest ways of balancing a motorcycles. The use of our balance will put a smile on your face and have your motorcycle smooth as glass.
They will work in all tubeless motorcycle tires. Please be aware that 50% of tubes have a smaller hole just below the core. This will cause issues with the beads going through. No lead on your motorcycle. Our balance beads are sold all around the world for motorcycles.
Simply put, Tire Balancing Beads are simple to use
Using our product place's less stress on suspension, drivers nerves, can increase fuel mileage and increase tread wear. Unlike lead weights, which are becoming illegal due to environmental problems, Our product is completely Green and they are re-usable. On a motorcycle, truck, motorhome, trailer and more these are the best way of balancing a tire for the life of the tread. Balancing beads are quickly becoming the most popular means of balancing around the world. See our Question and Answer page.
FREE shipping available.
Have a shop? - Ask about our Wholesale rates.
For all questions about tire balance beads please call us at 928-255-5540.
FAQ's
How long do tire balancing beads last compared to weights?
Our product is hard enough not to crack or come apart and they will last the life of your tread.
How do I know if this product will work for me?
Checkered Flag's beads are very affordable and safe. They will work on many types of tires just look at our tire balance beads charts.
Do balancing beads cause damage?
Our tire beads are made of a round compound that is very smooth. They roll without causing damage to the tires and if they bounce off the rims / wheels the result is the same, no damage.
Will this product improve my fuel mileage and tread wear?
It is a proven fact that balanced tires improve fuel mileage and allow for longer tread life. They will balance your wheels every time you leave a stop sign or stop light.
Will the beads clump up inside? Are they safe for TPMS?
Unlike other products on the market today our balancing beads will not clump with moisture and is safe to use with TPMS.
What type of vehicles will balance beads work with? Balancing for Cars? For Semi Tires?
Our product will balance Semi Trucks, Motorhomes, Trailers, Motorcycles, Full size SUV's, Pickup Trucks and more but please see our tire balancing beads charts. They are really not meant for small cars /vehicles, low profile tires, sports cars, hot rods and race cars.