Ceramic Balancing Beads questions and answers are for Beads ONLY (not for the Liquid Tire Balance)
Ceramic Balancing Beads questions and answers.
Firstly, The Tire Balance Beads are great but DO NOT work with all tire sizes. If you do not see your tire size on the charts please contact us before you purchase.

Secondly, If you are using PVC pipe inside your tires as some sort of  run-flat then DO NOT use because it may cause issues.

Finally, If you see your tire size under "Trailer Tires" please don't think it will be fine with your small car.  This is because small cars have different types of suspension.
Watch product videos - Just click Here.
Tire Balance Beads questions and answers
1. Will they work with all tires?
They will not work with Sidewall ratios of 60 or less (some 65 sidewalls). Additionally, This type of tire often have a left to right dynamic balance issues only correctable by spin balancing.
2. Should I use Filtered Valve Cores?
This is optional.
3. Can I use with C.T.I.S .Central Tire Inflation System?
No – not recommended
4. May I use with Tire Pressure Monitoring Systems?
Yes
5. Can these be used to balance my 5th Wheel or Camp Trailer
Yes
6. Will these balance motorcycle tires?
Yes
7. Is an inner tube something these beads will work in?
Yes and no….some tubes have a smaller hole just below the core hole that blocks them….check yours
8. Can I use these in my Hummer?
Yes without C.T.I.S. or Run-Flat type tires
9. What about Run Flat Tires?
No
10. Is use with Nitrogen good?
Yes
11. What about Sealant of any kind?
No….never
12. Super Single use?
Yes
13. Can I use in airplane tires?
Not exactly sure….need more feedback from pilots that are using them.
14. Do I have to remove my tires from the vehicle?
No – if you have the tools need to break the tire loose from the rim on the vehicle. If not, you will remove it to break the tire loose and install. Or you may have a tire shop do it for you.
15. Will they damage my tires or wheels?
No… never
16. If moisture gets in my tires, will they clump up and stop working?
Not at all with a small layer of moisture. They will not clump like plastic beads, powder and glass beads do with moisture. Additionally, if there is enough water to puddle in the tire this will cause issues with all types of balance beads.
17. May I use a tire balance machine with them inside?
No
18. Does air pressure affect the beads?
Yes….if the pressure is too low the tire can cup and the beads move the the sides instead of staying in the center of the tire.
19. Do they fall to the bottom of the tire at a stop?
Yes
20. Will I hear them while driving?
No
21. At what speed do they start to work?
30 mph and above….but 99% of the time you will not notice any imbalance below 30 mph anyway.
22. How much will I need?
23. Must wheel weights be removed?
Yes…remove all lead or steel balance weights.
24. Will your beads effect tire life?
Yes, you can expect up to 30% more life with balanced tires.
25. If I have to patch or plug my tire will it effect them?
No.. as long as there is not a lot of excess glue used in the process and baby powder is recommended to adhere to patch glue. Basically keep it neat and let it dry.
26. Can I reuse them?
Yes
27. Will the bead help with steering wheel shimmy, wobble or shake issues?
No…These conditions are commonly caused by a steering component failure, defective tire / tread, worn out hub bearings, worn out ball joints. The beads will not compensate for any of these situations.
28. What about glass, plastic, steel beads and powder?
Glass can come apart in a tire, glass, plastic and balance powder can clump with moisture. Steel beads can damage rims by chipping away the protective coating and allowing steel rims to rust and aluminum rims to corrode.
29. How about Ball Bearing type Balance Products?
Simple economics….Do the math with purchase cost and remember, our beads are reusable.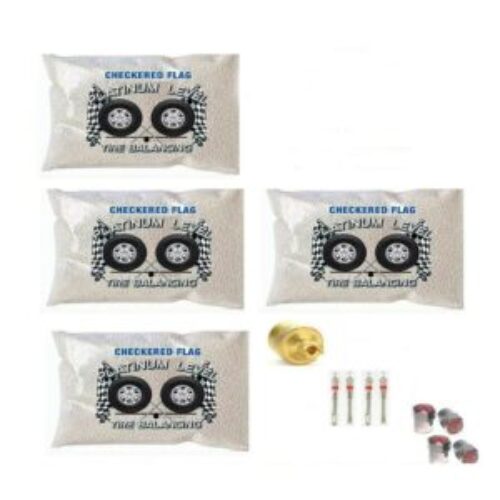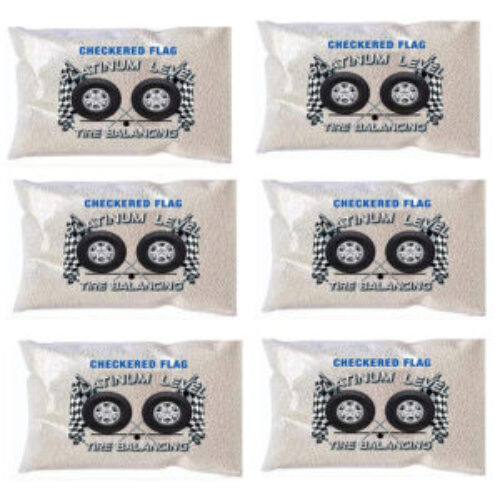 Contact Us
If your tire balance bead question is not here please contact us.
Please Call Us  928-255-5540   or email at Ltsincorporated2@gmail.com
Checkered Flag Tire Balance Beads questions-and-answers