How Internal Tire Balance Works
Tire Beads
How Tire Beads Work
Please see the video on this page for a full explanation on how the beads work.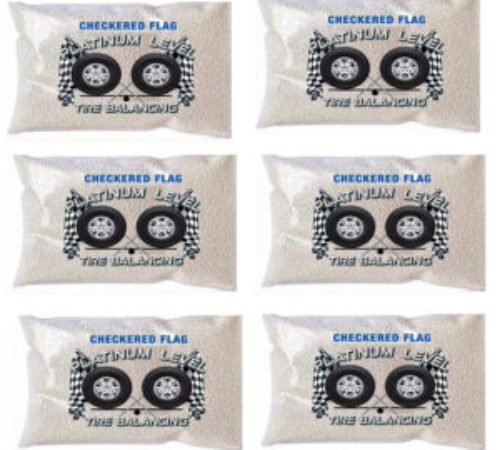 Notice:
The Tire Balance Beads DO NOT work with all tire sizes. If you do not see your tire size on the charts please contact us before you purchase.
If you are using PVC sewer pipe inside your tires as some sort of bead lock / run-flat….DO NOT use the tire beads.
If you see your tire size under "Trailer Tires" DO NOT think balance beads will be fine with your small car….
Contact Us
Please call us and we will be glad to talk to you about how they work…..928-255-5540
Frequently Asked Question:
Will the product react to any known materials?
No, Our Balancing Beads will not react with any known metal or material. Is the product affected by moisture?
Is the product affected by moisture?
No, Ambient moisture does not affect the product's performance once installed and used in the tire. The relative humidity inside the tire decreases after the tire heats up during normal operation and use.
Do They Clump?
No.
How do I remove the product from the tire?
Our product is easily removed simply by striking the tire with a tire iron several times along the tread. This will cause the material to fall to the bottom of the tire for removal.
Do you need a valve filter to prevent the valve from clogging?
Valve clogging is not a common problem with our product. We remove all dust from the material after manufacturing, as dust is the cause of valve clogging. However, to reduce the possibility of a valve leak, we recommend the use of a long valve core and self sealing valve cap
Can you balance a tire with beads inside on a tire balancer?
No, The Tire Balancing Beads will only move to the balanced position through inertia generated by the out of balance condition. the up and down motion of the vehicle suspension while counteracting the out of balance condition.
What about when rotating tires?
Rotation is not an issue. Just rotate your tires as needed. Tire Beads balance the complete wheel assembly including the rotors, break drum and other wheel components every time you drive.
Advantages over Lead Weight Machine Balancing
Tire Balancing Beads balance for the complete life of the tire because they can adjust to the balanced position as required something lead weights are unable to do.
Tire Balancing Beads balance the complete wheel assembly in all wheel positions on both truck and trailer and do so economically.
Tire Beads see protection from road hazards and obstructions, inside the tire and will not fall off as lead weights can do, thus saving the environment from the problems caused by lead
Lead weights can damage custom wheels as well as being unattractive. Counteract is an internal balancing system and therefore is invisible.
www.checkeredflagtirebalancebeads.com